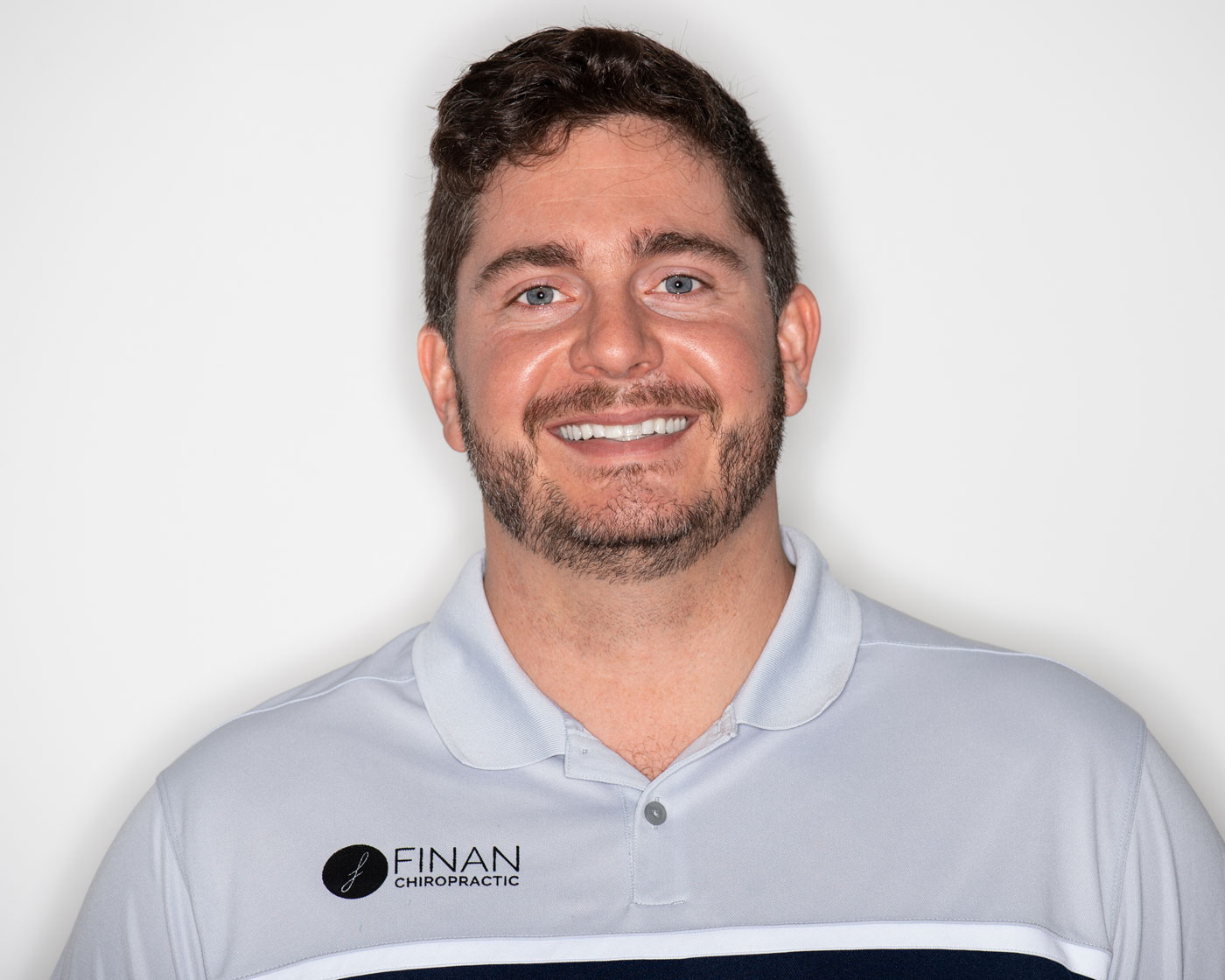 Dr. Van Zandt grew up in Shawnee and attended Saint Thomas Aquinas where he was a three-sport athlete before dedicating his time and efforts to football. He attended the University of Kansas earning a Bachelors of Science with an emphasis in Exercise and Sport Science. In his last trimester at KU, Dr. Van Zandt was fortunate to do an internship with Dr. Rob Jones at Peak Performance Health Center where he received invaluable experience working hands on with patients and athletes. This experience motivated Dr. Van Zandt to attend Cleveland Chiropractic College in Overland Park where he graduated cum laude.
During his time at chiropractic college Dr. Van Zandt developed a strong interest in the diagnosis, treatment and management of sports injuries. This has led Dr. Van Zandt to pursue a third professional degree, Master of Science in Sports Science and Rehab. Dr. Van Zandt has continued to amass hundreds of hours of continuing education in varying diagnostic and treatment techniques further enhancing his ability to manage cases of a wide patient demographic.
Dr. Van Zandt applies his knowledge and skills to create individualized treatment plans centered on evidence-based protocols utilizing chiropractic manipulation, soft tissue rehabilitation, functional rehabilitation and corrective exercises to provide a comprehensive solution to the patient's injury, allowing them to reach optimal health and performance.
Certifications:
Active Release Technique, Full Body Provider (Spine, Upper Extremity, Lower Extremity, and Long Tract Nerve Entrapment)
Graston Technique
FAKTR (Functional and Kinetic Treatment with Rehab)
Certified Kinesio-Tape Provider
RockTape Medical Pro-Fascial Movement Taping Level 1-2
FMSC (Functional Movement Screen Certified)
SFMA (Selective Functional Movement Assessment)
Intelliskin PostureCue Provider
Dr. Van Zandt's enthusiasm for helping his patients and learning the newest approaches to treatment and techniques often takes him away from those most important to him, his wife Sarah, their children Bo, Lenni, Hawk, and Gemma.
What our patients are saying
"I always feel so much better when I leave Finan Chiropractic!! My body feels better from being adjusted and my heart feels better from the friendly people in the office. I would recommend to everyone!"
- Lisa C.
"The whole process was super easy. Filling out the forms and scheduling the appointment was a breeze. And Dr. Nate Backer was incredible. He is a straight shooter and does not try to hide anything from you. He focuses on fixing the problem, not the symptoms. Very personable and knowledgeable. Felt so much better after leaving the office. He assigned me stretches I could do at home to help relieve some of my pain and they are working great. Overall, a fantastic experience. Would definitely recommend!"
- David G.
"I have been a patient since 2014 and I cannot say enough wonderful things about Dr. Finan. She is attentive and extremely knowledgeable. I had previously quit seeing a chiropractor because my chronic pain was not being resolved – until I saw her! I recently began seeing Dr. Nate as well and have received nothing but excellent care as well. The office staff is so friendly and helpful – go, go, go! You won't regret it."
- Abigail C.
"Josh helped me recover from two running injuries this year. I was able to run a pain free half marathon three weeks ago, and I look forward to a healthy running year in 2017 thanks to the excellent care I received."
- Joseph R.
"He (Dr. Backer) was very knowledgeable and helpful in asking great questions to try to figure out root causes of symptoms vs jumping straight into adjustments and such. He provided a lot of good information and took the time to discuss preventative habits with me such as stretching, sleeping positions, etc that may help prevent future symptoms. He was very skilled in adjusting and relieving tension I immediately felt an increase in mobility and decreased tension. Looking forward to my next appointment!"
- Marcus A.
"Dr. Finan is amazing. The rest of the staff is too. Everyone is super friendly and helpful. They are always on time. I've never waited more than 5 minutes in the year I've been going there. Dr. Finan has helped my back and ailments in such a short time. I feel great! Thank you!"
- Janel B.
Mon/Tue/Thur 8AM - 6PM
Wed/Fri 8AM - 2PM